When hiring a commercial cleaner, one key consideration is the timing of when trained professional teams will be working inside your building. To help you determine the best solution for your office building, Imperial Cleaning has broken down the benefits of office cleaning at night vs. during the daytime.
Selecting the Right Time to Have Your Building Cleaned
It used to be that cleaning was done at night so that employees' work wouldn't be interrupted. Overnight cleaning also meant that everyone would walk into a clean building every day of the week.
But, in 2020, as COVID-19 concerns increased, many companies elected to switch to daytime cleaning and disinfection services.
Daytime cleaning gave employees confidence that their employer was doing everything possible to maintain a clean, safe environment and protect their health.

Daytime Office Cleaning
First, and most importantly, dirt and grime are easier to see in daylight! Daytime cleaning typically results in a deeper clean. However, there are also other less obvious reasons to have your building cleaned while it is light outside.
Other Key Benefits
Enhanced Energy Efficiency
If you have a cleaning service clean your building during the day, you can reduce your energy consumption because you are not lighting the building or maintaining the temperature at night.
When professional cleaning happens overnight, lights in the building remain on, as well as your HVAC system. Office cleaning at night can account for as much as 25 percent of a building's lighting usage, or about 7 percent of its total energy consumption, according to BOMA's Building Energy Efficiency Program. By having your cleaning service work during the day, you will reduce your energy use, and that can save you between 4 and 8 percent on your energy costs.
Daytime Scheduling and Response Time
Professional cleaners typically arrive early in the morning, creating fewer interruptions than you might think. This allows them to perform more intrusive cleaning services, like vacuuming, before the employees arrive at work. You can also ask if a cleaner uses a low decibel vacuum cleaner to keep noise levels down and not interfere with your employees' work.
A Safer Environment at Night
When your cleaning service is only present during the day, less traffic comes in and out of the building at night when security is a concern. Many security firms typically encourage companies to have the building cleaned during the day and avoid visitors at night when the building is fully secured, with all entry and exit points locked.
Lower Turnover of Cleaning Staff
While some cleaning technicians prefer to work at night, others find the demands of office cleaning at night too strenuous and do not want it to interfere with their sleep patterns. Nighttime shifts are known to have a higher turnover rate across all industries.
Having your building cleaned during the day will mean less turnover of your cleaners, providing you with more consistent, attentive service from the same cleaning staff that knows your building's specific needs.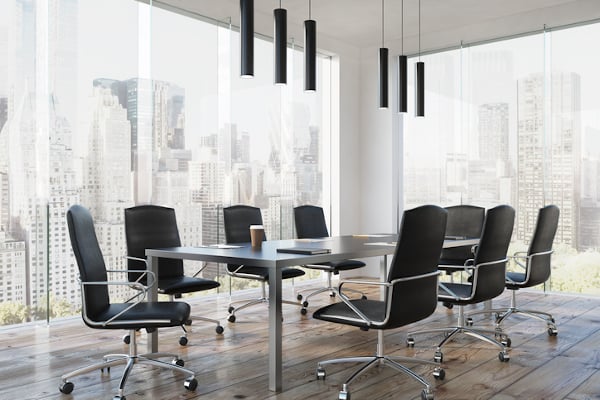 Office Cleaning at Night
Could overnight cleaning be a better option for your facility? Building managers often choose night cleaning because they believe their facilities will receive a deeper clean due to the uninterrupted process.
Other Key Benefits
Fewer Disturbances
A commercial cleaning company's professionals are trained to work efficiently without disturbing those working in the building during the day. Still, some facility managers prefer their cleaning service to work at night to minimize disruptions to their employees.
Selecting office cleaning at night ensures that your employees will not be interrupted by a vacuum while trying to meet a deadline or holding a meeting.
Increased Health and Safety in the Workplace
Daytime cleaners can kick up dust and allergens that may affect the respiratory health of your workforce. Dust mites cause allergies in about 20 million people, so the chances are reasonable that someone in your building may be affected by daytime dusting.
Since the onset of COVID-19, many building managers have avoided allowing outside strangers inside their building. Although most professional cleaners wear personal protective equipment (PPE), such as masks, rubber gloves, and safety goggles, to comply with OSHA standards, not all employees and guests have the same protection.
Another concern is the cleaning chemicals used in disinfecting and sanitizing buildings. While many cleaning products are green, some could be harmful if they came into contact with or were inhaled by building employees.
The Hybrid Option
If choosing between daytime and nighttime commercial cleaning services is too difficult, another option combines the two by hiring a day and night cleaner. The hybrid option will allow you to always have someone on hand to take care of your building's cleaning needs. Essentially, the daytime workers support the building during the day, and the nighttime workers perform deep cleaning during the night when heavy-duty cleaning can be accomplished:
Floors can be mopped.

Loud equipment can be used.

Building occupants don't run the risk of tripping over cables or slipping on wet flooring.

Day or Night, Imperial Cleaning Has Got You Covered
No matter if you prefer day or night services, Imperial Cleaning has a team of trained professionals ready to make your building look spectacular. We are here to help you select the right commercial cleaning solution to fit your needs.
To request your personalized walk-through of your facility and custom quote, contact Imperial Cleaning today.