Have you ever walked into a store, been disappointed by the store's cleanliness and appearance, and then turned around and walked right out? Today, discerning consumers have high expectations for retail environments to be healthy and safe. No matter what types of products you sell, it's important to maintain a spotless retail store. Consumers have a keen eye and notice the amount of dust and grime that accumulates around your store. Retailers who have worked hard to build positive perceptions of their brand should support their brand experience by providing a flawless in-store experience. Whether you operate a boutique, luxury, or private retail business, your brand can significantly benefit from following our retail cleaning tips this holiday season!
Find Out How to Pass the Spotless Test
One of the first jobs for a retail store is convincing customers that the store really is clean. TV shows revealing the dirty backroom secrets of restaurants, stores, and supermarkets have pre-conditioned consumers to examine stores for cleanliness. By paying close attention to our retail cleaning tips, your store can pass the spotless test.
The Qualities of a Clean Store
Clean and Well-Kept Sidewalks
For stand-alone retail stores, the first thing customers look for before entering a store is clean steps and sidewalks. Take a good look at your entrance sidewalks, stairs, and awnings, and consider power washing them to make them sparkle.
A Clean Entrance
Most of the dirt that enters your store is deposited in the first 15 feet from the entrance. The entrance should be spotless because first impressions are important. Make sure floor mats are clean and that carpets are not frayed or torn. Entrance windows should be cleaned regularly as well. Consumers dislike cigarette butts, gum, and mysterious stains, which indicate a store does not follow essential retail cleaning tips.
Garbage and Sanitizers
When consumers visit a business, they expect to see signs that indicate the business cares about cleanliness, such as trash cans, recycling, hand sanitizer, and hand wipes. This rings true for stores that offer clothes, luxury products, and health services.
Sparkling Floors
When a floor is freshly polished and gleaming, the customer is given the immediate impression of a clean environment. The effect floor cleaning services provides cascades to the entire store experience. In the same way, a scuffed and dirty floor might make them uncomfortable paying a lot for luxury merchandise.
Clean Restrooms
Toilet paper and paper towels must be provided in the bathrooms, and the restrooms must be clean and odor-free. Consider frequent restroom cleanings throughout the day to ensure a good experience.
No Stains or Spills
Customers judge a retailer harshly if the carpets have ugly stains or noticeable spills. For this reason, consider using porter services that monitor the cleanliness of an entire retail floor for spills and stains throughout the day. Some stores also assign an associate to floor and carpet detail to keep a constant eye out for ugly stains and spills.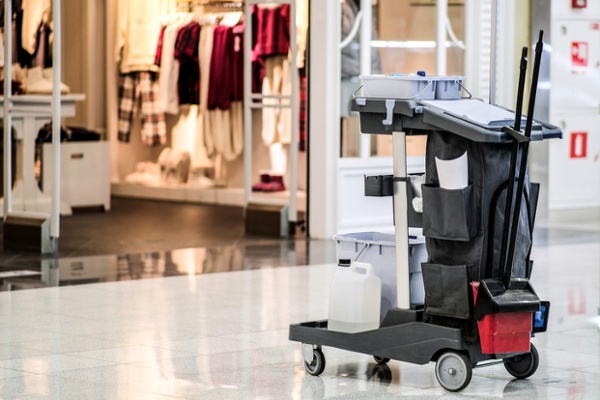 Maintaining a Clean Reputation
It doesn't take long for a dirty store to ruin a retailer's reputation. In a world with rampant social media, any cell phone can easily take a picture of a filthy restroom or floor and post it on Twitter, Facebook, and other social media sites.
In fact, 93 percent of Americans would not return to a retailer if they experienced an issue with the cleanliness of the store, according to a Harris Poll for Cintas Corp.
5 Reasons Why Customers Leave a Retail Store
A general bad odor – 78%
Dirty restrooms – 66%
Dirty and dusty surfaces – 65%
Poor entryway cleanliness – 60%
Broken and dirty dressing rooms – 56%
Pleasing Your Customers Pays Off
Maintaining a clean environment with retail cleaning services will please customers, prevent bad PR, and help you avoid potential lawsuits. Specific tasks should be completed every day - or even hourly - while others require a deeper and more thorough cleaning less frequently. Follow our list of retail cleaning tips to improve your image.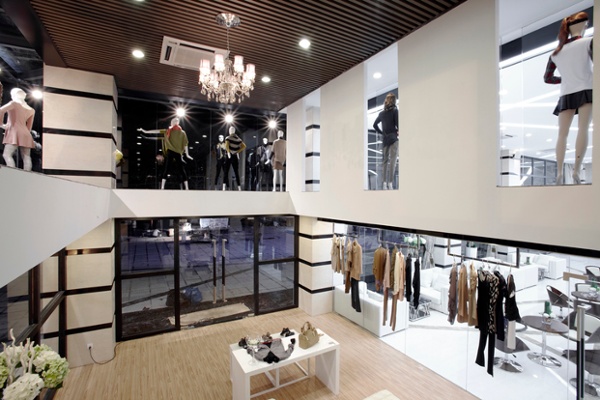 Retail Cleaning Tips: A Checklist for You to Follow
Establish a Schedule for Routine Cleaning
Weekly cleaning isn't sufficient. Entryways, walkways, and restrooms should be checked frequently by employees. Determine a daily cleaning routine.
Make Deep Cleaning a Priority
Deep cleaning of the entire store should be performed regularly along with regular daily maintenance. Public and employee-only spaces are included in this category, along with ceilings, floors, carpets, windows, and displays.
Monitor Air Quality and Surfaces
Check for mold and have your ductwork cleaned. In addition to being clean, surfaces customers touch must be hygienic. In other words, they must be thoroughly cleaned to eliminate infectious bacteria and viruses.
Power Washing
The following areas should be power washed regularly to maintain their cleanliness: awnings, parking lots, sidewalks, entryways, building siding, and railings. Make arrangements for a professional cleaning company to perform regular power washing in these areas.
Immediately Remove Graffiti
If you operate a retail store, have a commercial cleaning company on call who can remove graffiti as soon as it appears.
Request a Personal Site Walk-Through of Your Retail Store
Imperial Cleaning's expert team of trained technicians can provide you with a free quote for any of our cleaning services, including general cleaning, commercial janitorial, power washing, and carpet cleaning services. Contact us to request your personal site walk-through of your retail store: 877-WE-CLEAN.