You have probably heard all about the benefits of electrostatic disinfecting by now. You already know it is a highly effective method for comprehensively killing germs, bacteria, and pathogens. But, as you consider how to best protect your organization, you probably want to know how electrostatic sprayers work and how they can benefit your business? Imperial Cleaning has you covered.
The Answers to All Your Disinfecting Questions
How Do Electrostatic Sprayers Work?
Electrostatic spray disinfecting is the process of spraying a mist of charged particles on to surfaces. The disinfecting spray contains particles that have been positively charged by a metal electrode as they exit the sprayer. Applied as a mist, electrostatic sprayers evenly coat surfaces and envelop objects. The sanitizing agent in the spray then works to disinfect the surfaces once it is applied.
Electrostatic spray disinfecting works well on all types of surfaces, allowing the sanitizers, mold preventatives, and disinfectants to cover and aggressively adhere to all visible surfaces and objects, including the undersides and backsides of exposed surfaces.
How Can Electrostatic Spraying Help My Business?
Compared to conventional methods, it takes 50 percent less time to cover and disinfect all surfaces and hard-to-reach places. It helps prevent the spread of infectious diseases and pathogens, including COVID-19, influenza, MRSA, HIV, and others.
Electrostatic spray disinfecting is highly efficient since it repels the spray from already covered surfaces. It also controls the way chemicals are applied, avoiding the danger of overuse. In addition, the opportunity cost is less than if an employee comes down with an infectious disease which eases the financial burden.

At What Types of Places Will Electrostatic Disinfection Work?
A variety of surfaces and facilities may be cleaned with electrostatic disinfection, including:
Schools

Commercial kitchens

And countless other places where disinfection is necessary
Does Electrostatic Spraying Make Sense for My Facility?
Now that we answered the question "how do electrostatic sprayers work," you are probably wondering where this powerful technology would work the best.
It is most effective in facilities that see significant traffic, have difficult-to-reach objects that require cleaning, are exposed to harmful microorganisms, or are experiencing a disease outbreak or suspecting one. Additionally, electrostatic disinfecting can be used in areas where mold has been detected.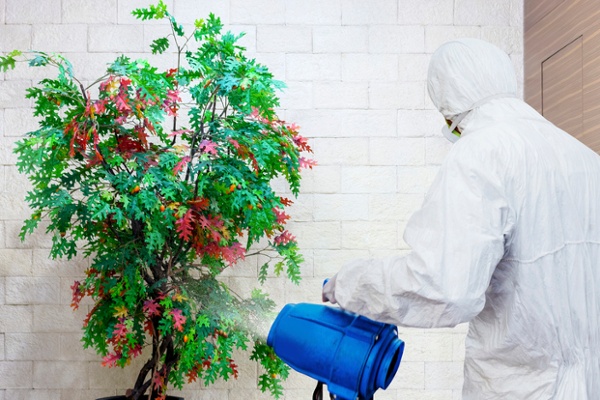 What are the Benefits of Continued Use?
Disinfecting with electrostatic spray kills germs, bacteria, and viruses on surfaces. Although the covered surfaces will not remain free of infection indefinitely, the use of electrostatic disinfection in high-traffic or high-use institutions may prove more beneficial.
The Imperial Shield program ensures surfaces are protected for up to 90 days using Imperial Cleaning's 2-step disinfection and protection plan.
Disinfectant is sprayed using the electrostatic sprayer, killing 99.9 percent of pathogens on surfaces.

PRO-Techs antimicrobial solution is then applied using the electrostatic sprayer. Antimicrobial application is a revolutionary solution that actively kills 99.9 percent of bacteria and viruses continuously for up to 90 days.
How Much Does It Cost?
For electrostatic disinfection, developing a quote depends on several factors, including:
The dimensions and location of the area to be cleaned

The number and size of items within the space

The frequency of the services administered
To provide you with a quote, Imperial Cleaning must first perform a walk-through evaluation of your site.
Have Questions Other Than How Do Electrostatic Sprayers Work? Contact Us Today!
Imperial Cleaning, a national leader in the cleaning industry, specializes in providing professional disinfecting services to all types of commercial offices, schools, medical facilities, and more. For more in-depth answers to questions like "how do electrostatic sprayers work?" and "how can they help my organization?" contact us today. Or, you can request a free estimate at any time for our Imperial Shield.