After a long day of work the last thing you want to come home to is a dirty and messy home. You want to sit back, relax and enjoy a few minutes of peace. But when your home is a mess it can be more difficult to allow yourself to relax and in turn it can stress you out. Here are a few cleaning hacks on how to quickly clean in order for you to get back to a peaceful mind.
5 Useful Home Cleaning Hacks
1. Use your dishwasher
A dishwasher is capable of cleaning more things than just your dishes and utensils. Use it for your stove top grates or knobs and any glass items you may have, such as flowers vases. It'll give your belongings an extra sparkle.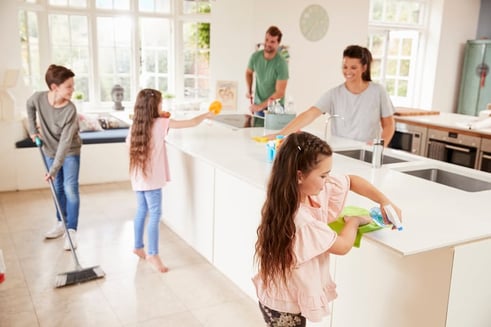 2. Ways to clean your computer
You want to refrain from using harsh paper products or spraying liquids directly on your screen. A good alternative to use is a microfiber cloth or even a soft coffee filter to wipe any dust off. These are safe for both your keyboard and monitor.
3. Paint rollers
Paint rollers are much more useful than for just painting. Add dryer sheets to a long paint roller to dust hard to reach places. If you have pets, you can also add duct tape to capture pet hair on furniture.

4. Clean your microwave
Add equal parts water and vinegar in a microwavable safe bowl and put it in the microwave on high for 5-10 minutes; wipe down once finished. You can add a lemon if you're looking for a fresh scent and a small wooden object such as a toothpick to avoid boiling over.
5. Magic Erasers
A magic eraser is a multi-functional tool every homeowner needs. This is added to the cleaning hacks list because you just add water and then you're ready to start scrubbing. Some of its uses are:
Stove top grease
Removing wall marks
Eliminating sticky residue off of surfaces

Put on a playlist for the amount of time you want to clean and once your playlist is over, you're done cleaning for the day.
These five effective cleaning hacks should help to keep your home more livable. Then you can have the professional cleaners come in and scrub the entire house down for a deep clean. Imperial Cleaning cleans residences all over Long Island, we do more detailed cleaning, scheduled services, move-out cleaning, move-in cleaning, and post construction clean- ups.